Home Buying Process
Step 1: Decide to Buy
The decision to purchase your first home is one of the biggest and best choices you could ever make. It's the biggest investment most people will face in their lifetime. How do you know if it's the right time for you to buy? The key is finding the right buy and taking the time to go over your finances. The most common thought process is should I rent or should I buy? See below we highlighted some things to think about when deciding. Start looking at your options today. You don't have to know everything. We're ready to help you through every step of the process.
Step 3: How Much House You Can Afford
Lenders generally recommend that people look for homes that cost no more than three to five times their annual household income.
Step 4: Get Preapproved for Your Mortgage
Before you start looking for a home, you will need to know how much you can actually afford. The best way to do that is to get preapproved for a mortgage. To get preapproved, you just need to provide some financial information to your banker and they will take care of the rest. Your lender will review your information and tell you how much they can lend you. This will tell you the price range of the homes you should be looking at. If you're ready to start exploring finance options, click here to explore our preferred lender</a >.
Step 5: Find a Great Real Estate Agent
Agents are important partners when you're buying or selling a home. Real estate agents can provide you with helpful information on homes, school districts and neighborhoods that isn't readily accessible to the public. Their knowledge of the home buying process, negotiating skills, and knowledge of the area you want to live in can be extremely valuable. Best of all, it is FREE! – Agents are normally compensated from the commission paid by the seller of the house. Their knowledge and assistance is invaluable when you are making such a large investment.
Step 6: Search for Your Home and Make an Offer
Start searching for homes in your price range. You will see a lot of houses! It can be hard to remember everything about each one, so you might want to take notes, pictures or a video to help you remember each one. Once you and the seller have reached agreement on a price, the house will go into escrow or due diligence, which is the period of time it takes to complete all of the remaining steps in the home buying process.
Step 7: Get a Home Inspection!
A home inspection of the property is used to check for signs of structural damage or things that may need fixing. I will help to arrange to have this inspection conducted within a few days of your offer being accepted by the seller. This contingency protects you by giving you a chance to renegotiate your offer or withdraw it without penalty if the inspection reveals anything bad about the house. You and the seller will receive a report on the home inspector's findings. You can then decide if you want to ask the seller to fix anything on the property before closing the sale. Before the sale closes, you will have a walk-through of the house, which gives you the chance to confirm that any agreed-upon repairs have been made.
Step 8: Working with the Bank
Lenders have a wide range of loan programs to choose from. Every home buyer has their own goals when choosing a mortgage. Whether it's keeping your monthly payments as low as possible, or making sure your monthly payments never increase. Maybe you plan on moving within a few years. Whatever reason you choose, work with a local lender to help get you set up. If you're ready to start exploring finance options, click here to explore our preferred lender</a >!
Step 9: The Appraisal
Banks will arrange for an appraiser that provides an estimate of the value of the house you are buying. The appraiser is not directly associated with the lender. The appraisal will let everyone involved know that you are paying a fair price for the home.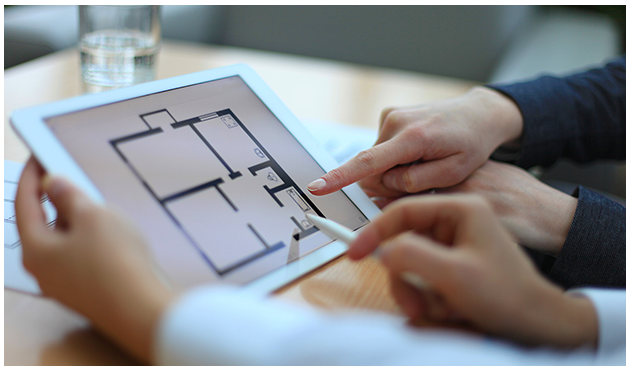 Step 10: Closing Time
At closing, you will sign all of the paperwork required to complete the purchase, including your loan documents. Once the check from the bank is delivered to the seller, you are ready to move into your new home!
RENT vs BUY
Here is an example of building wealth when you buy vs renting
Rent
$700/month
5%/year rent increase
After 5 years: $46,415 spent
Net equity gain: $0
Purchase
$80,000 mortgage approx. $655/month payment (including tax and insurance)
Average 3.7% home value increase per year after 5 years = $92,513 home value
5 years paid on principal = $9,238
Net equity gain: $21,751
Other Things to Consider:
Homeowner's insurance
Protecting your home from damage comes at a price, and while insurance rates vary, the rule of thumb is to divide your home's value by 1,000 and multiply the result by $3.50. If you home's value is $100,000, for instance, you'd pay around $350 per year, or $29per month, for coverage.
Renter's insurance
When you rent and apartment or a house, you may need insurance that covers you and your property in case of an unforeseen event. Renter policies usually cover furniture, clothes, appliances, and perhaps some of the improvements you made to the property. It is usually less than $20 per month.
Maintenance
If you listen to the experts and use the 1% rule of thumb, it says that Homeowners shell out nearly %1 of the home value per year on average for regular maintenance and repairs, and that's not including some higher priced expenses like a roof repair, a new HVAC system, and other needs that can cost thousands. So owning a $100,000 home costs $1,000 a year in extra expenses. If you rent then you won't need to worry about adding expenses to your budget, and some utilities may be paid by your landlord, saving you even more compared to the typical homeowner.
Bills
Regardless of if you are renting or owning your home you will have expenses. Both will have heating (gas, oil, electric), water, and electric bills. Here are some of the other utilities that home owners may now have to pay. Real Estate Taxes (you can include them with your mortgage payment), Sewer Bill (landlord usually pays), Security, Lawn care, and Homeowners Insurance as discussed above.